"Wabi-sabi XVI" hand knit cowl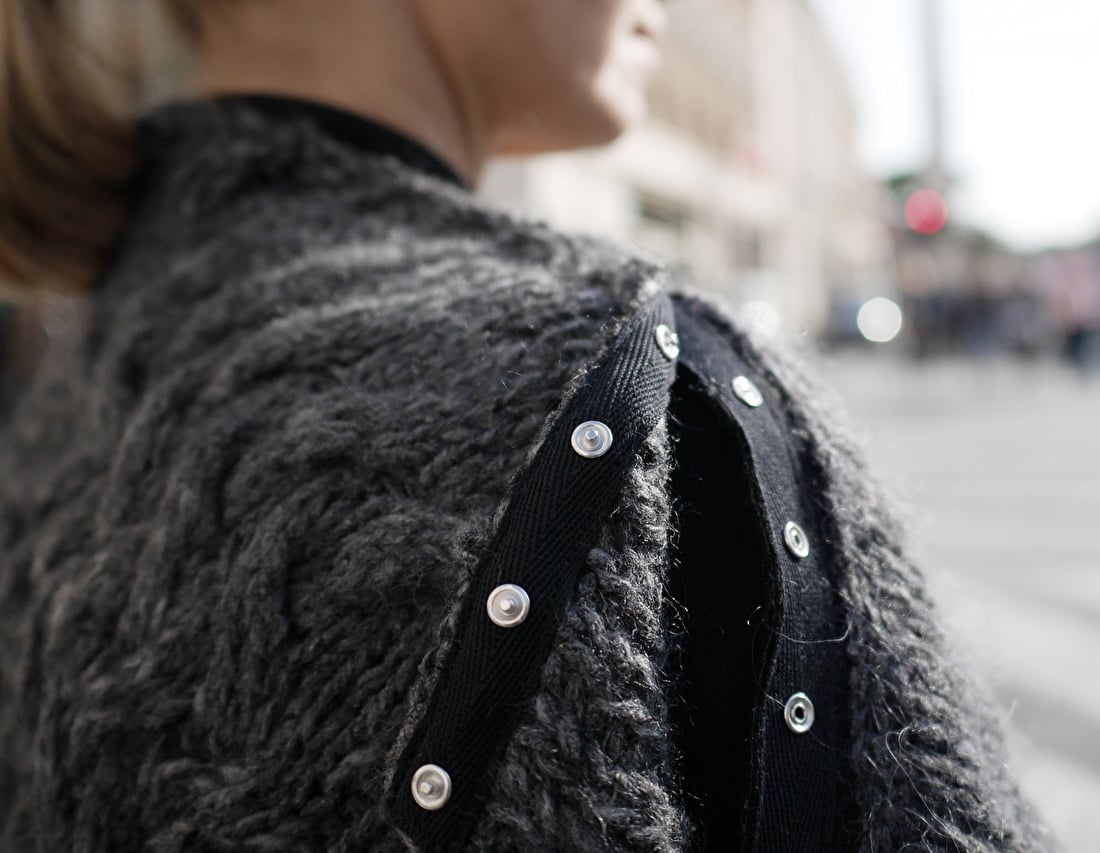 ---
INSPIRATION
"Wabi-Sabi" is the art of imperfection. It is the art of finding beauty in asymmetry, asperity, simplicity, modesty and intimacy. Wabi-sabi reminds us that we are all transient beings on this planet; that our bodies, as well as the material world around us, are in the process of returning to dust.
"Wabi-Sabi" hand knitted cowls are created in asymmetric shape. They fall at each side in a harmony on the shoulders. For each cowl, we used different yarn mixes and different stitches. Therefore each cowl is unique and one piece only. To see other combinations, please view our all "Wabi-Sabi" cowls.
---
DETAILS
Hand knitted in multi plies; kid mohair and acrylic mix in multi colours of grey and black.
Asymmetric shape gives you the freedom to turn the cowl on your shoulders as you wish. Top stitched wool tape with snap buttons, accentuate the neckline and the stitch mix.
If you would like to feel the quality and try it on first, please feel free to contact us for an appointment.
---
HANDMADE
All our products are handmade, any imperfections are a peculiarity and positive quality of the treatment which make the garment unique and special.
---
CARE & WASH INSTRUCTIONS

Hand wash only. Do not machine wash, handle with care.
For hand washing, choose a mild detergent and cold water. For wool fibers, choose a formula developed for wool or mild baby shampoo.

Gently agitate the knitted item in the water. Never wring or scrub.

Drain the sink and add fresh, cold water for rinsing. Avoid putting it directly under running water; the pressure can stretch it. Repeat this process until all the water is clear and free of suds.

Support the item from underneath as you transfer it to a dry towel.

Gently remove excess water and lay item flat on a dry, absorbent white towel and roll up in the towel, pressing firmly as you roll. Do not wring the towel.

Lay a dry bath towel on a flat surface large enough to hold your garment with arms extended if appropriate.

Place the knitted item on the dry towel and reshape into its original shape. Avoid tugging or pulling.

Allow the item to dry for 24 hours. Keep it away from sun and heat.

When it

is dry, gently steam it on a hanger to remove wrinkles, this is a great way to freshen up knitwear you haven't washed, or lightly press with an iron on the wool or steam setting.

Fold your garment and put it away. Never hang a knitted garment. The weight will stretch out the shoulders very quickly.

---